"In fact, I never prepare what I'm going to say…"
Groningen – "What I say about a photo is completely spontaneous", says Dennis Lapré (54). He is one of the inspiring guides that will take visitors through the World Press Exhibition. This will take place at the Synagogue Groningen, Folkingestraat, and is being organised through the foundation NonFiction Photo. The exhibition is available to visit between 15 November and 8 December. 
By Bas Baas / Translated Thomas Ansell
"The truth about a photo changes when you put it into context", says Lapré. There is almost no-one who is as enthusiastic, and can speak as enthusiastically, about photography. Lapré is a varied story teller; he has been a teacher for several years at the Fotoacadmie, and gives lectures at both the Noorderpoort and Alfacollege. However, what he really likes doing is taking time to paint the exhibits in vivid colours for visitors to the World Press Photo Exhibition, and telling them about the winners of this year's edition.
Fixed frames
According to Lapré, it is a good idea to first look at the photos without a guide: "but you'll really get to know them with a guide." Letting people get to grips with photography is his profession, "as it is for all of the other guides", says Lapré. "Some people have a fixed 'frame' about how things should fix together. The photos that can be seen at the exhibition dare you to look outside of this 'frame', that you yourself have fixed into place."
"You'll learn to really look into the photos, and see more layers as you look at them for longer." This only happens when you take the time to stand still in front of a photo and let it work on you- says Lapré. He is referring to both literal and figurative layers: "Depth, contrast, composition, and those sorts of frills." Aside from this, Lapré also sheds light on the social, cultural, and political layers that the photos represent. This context comes from the aforementioned process of working on the image whilst it works on you.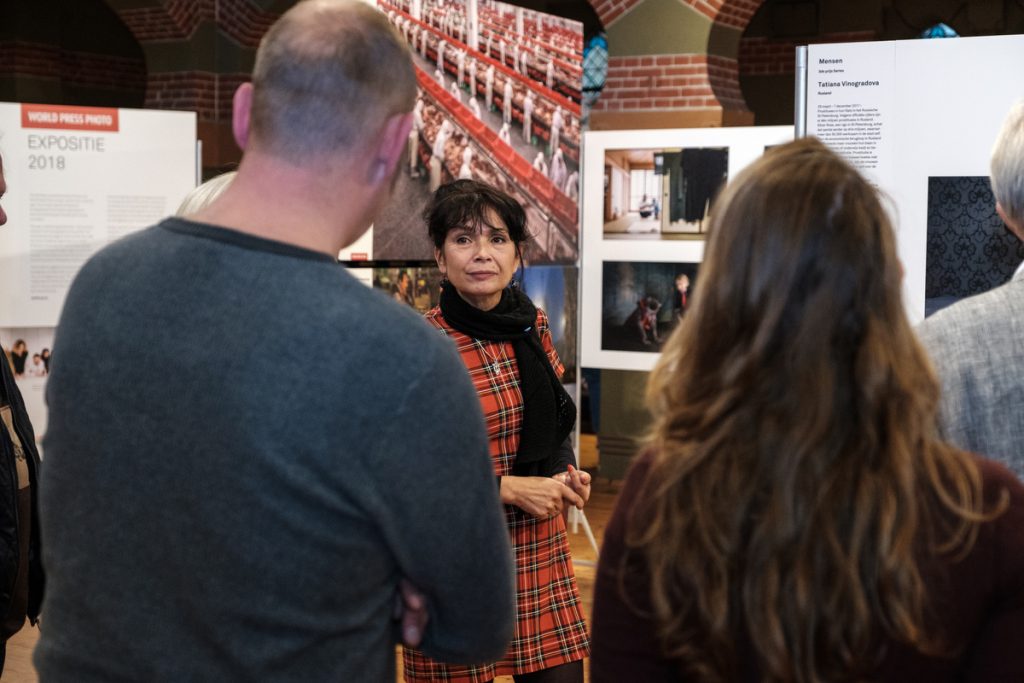 Art and mission
Lapré works as a guide for NonFiction Photo, the foundation that refers to itself as a 'podium for art and mission'. It is a Groninger organisation that relies on volunteers. The foundation has brought the World Press Photo Exhibition to Groningen since 2003, and earlier this year also exhibited De Zilveren Camera; the most prestigious Dutch press photography prize. All 150 winners of the World Press Photo competition will be available to see at the exhibition, across 157 images.
If a tour by Lapré (or one of his colleagues Joost Nuijten or Marion Verwey) sounds like something you would like to participate in, you can buy a ticket on the website or on the door. The tours will be offered in both Dutch and English, and will take place each Sunday between 14:30 and 15:30.