NONFICTION PHOTO EXHIBITION
GREEN IS
THE NEW BLACK
Green is the new Black is de liefdesbaby van onze getallenteerde fotografen, journalisten en kunstenaars.
De nieuwe categorie van de World Press Photo Contest, – je raad het niet – milieu, is aanleiding voor de tentoonstelling. Fotografen en journalisten doen verslag van milieuvervuiling, klimaatverandering en bedreigde diersoorten van over de hele wereld. Dergelijke fenomenen hebben consequenties voor ons allemaal en komen in het dagelijks leven binnen via nieuwsberichten, reclamespotjes en de supermarkt.
Maar wat kun je hier zelf aan doen? En wat doen anderen ermee? Onze curator is daarom op zoek gegaan naar mensen die het heft in eigen handen hebben genomen op het gebied van milieu.
Onze fotografen hebben initiatieven vastgelegd, journalisten hebben de achterliggende fenomenen uiteengezet en kunstenaars hebben dit allemaal met milieuvriendelijke methoden in elkaar gezet.
We presenteren met trots: Green is the new Black. Want groen is cool. Groen is de toekomst. Wat de antwoorden precies zijn weten wij niet, maar wat we wel weten is dat wij, en velen met ons, op zoek zijn naar de mogelijkheden. Doe je mee?
Doe maar duurzaam! Milieu =/ duurzaamheid, maar stiekem hebben we in het proces ook geïnvesteerd in lokaal talent! Zij nemen hun ervaringen bij ons mee de wijde wereld in. Wie weet wil je er wat mee. [link]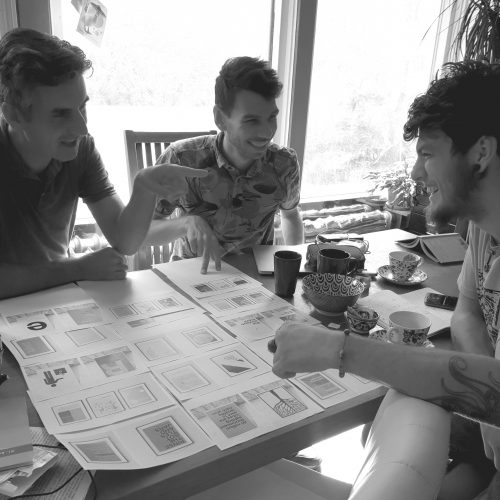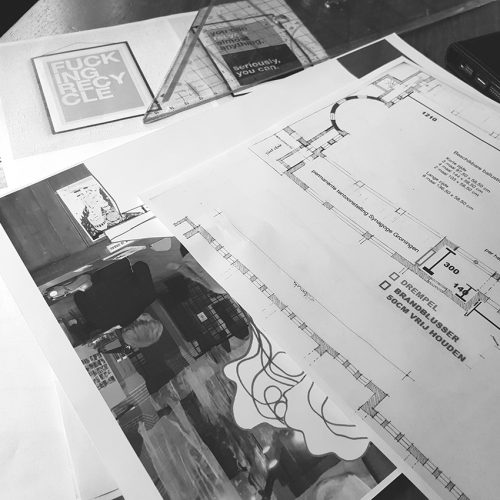 FUCKING RECYCLE
In de woorden van Becky Redman zelf:
"Fucking Recycle. Do it. It is very important."
This poster collection has been designed to increase awareness and promote action. Statistics and simple commands about recycling and waste provides the foundation of this typographic exploration. 50 different posters have been screenprinted on 100% recycled paper. The process has been documented throughout. Using the do it yourself mode of production, a messaging system has been created and implemented.
Each poster has been researched, designed, screenprinted, and posted in public. Posters provide the tool to convey information practically and repeatedly. The art of screenprinting gives the posters a tangible feeling, while the combination of rich colours and crisp detail instill a vibrant handmade quality. The brief bold message on each poster increases the retention of information and provokes a sense of urgency. By expanding the visibility and hype of important issues, action can be widespread.
Recycle. It's simple.
PASSENGERS
In the last years, we have seen many photography series on refugees from Iraq, Syria and Afghanistan, just to name a few. Tarfa Abdulghafour, made a documentary on the subject for NonFiction Photo.
On the other side of the world, the Middle East seems to be a playground for conflicts. From there, the waves of escape starts, from the death Hell to the bliss of life. Thousands of risky miles to face. In the blink of an eye, the sea water can fill your lungs and you become fish food; you might be exploited by traffickers; or be killed by a bullet crossing the border. However, there are hopes that these refugees have woven into their imaginations, surpassing all odds of failure or death.
Many have lost their homelands, Loved ones, their homes and their memories. But they hold to the hope of surviving and searching for a safer place. A place where human life is inviolable and does not differentiate between humans based on culture, religion or nationalism.
These refugees are different in many things but they shared the same feelings of fear that time, because during such a difficulties, all they can think of is to survive, and just survive.
Between 2014 and 2016, a large number of transients flocked to the Netherlands. A small country compared to other European countries. It's was a real crisis. In a short time, the Dutch government had to secure the newcomers, as well as a huge number of volunteers who have been exceptionally willing to help the refugees. Despite great public sympathy, the road is hard, but the newcomers look to the future building their new homes.