NonFiction Photo settles in the Biotoop
NonFiction Photo launches a crowdfunding project to build a new home. The foundation annually brings the World Press Photo Exhibition to Groningen and wants to produce local exhibitions in the new studio.
Text: Kim Dumore
The studio will become a place where creators of culture have the space to bring their ideas to life. "We worked for years from temporary places, kitchen offices and garages. Now that we can inhabit a studio in the Biotoop in Haren, we will really make something beautiful out of it." says Andrea Hooymans, director of the organization. There is a lot involved in the production of an exhibition. A laptop and a meeting room will not get you there; a workshop is also needed to build the actual exhibition. "All of this can coexist here, in a space we made with our own hands," explains Hooymans. The team is proud to be able to build the studio sustainably. "The new wall we are building now consist of 99% recycled material," says Dries Verbeke, the team's master builder.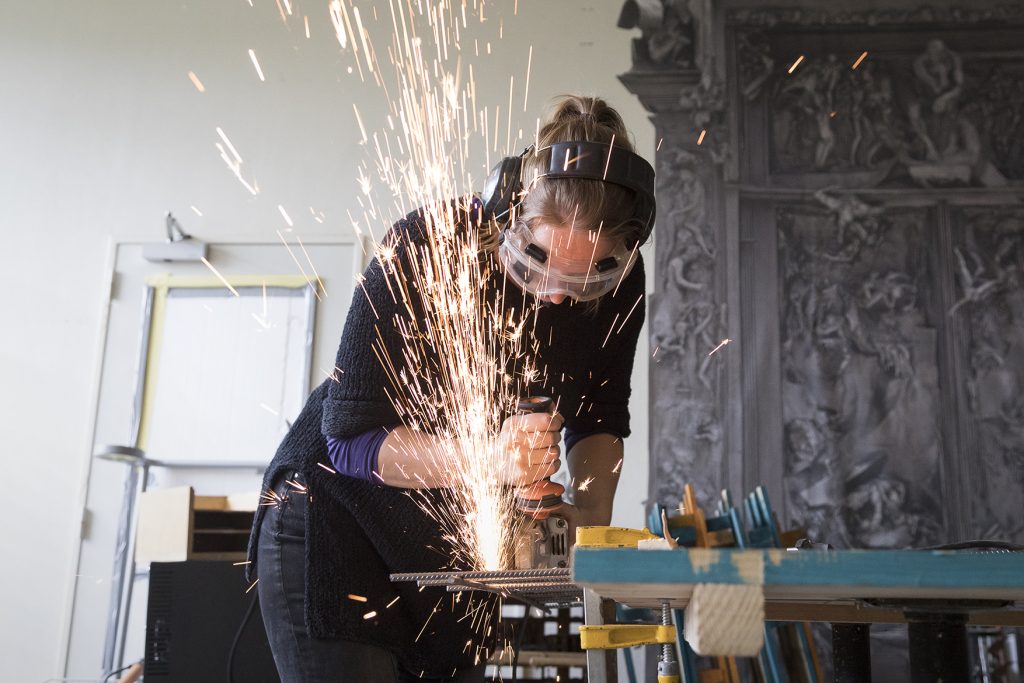 Crowdfunding
The team is working on a photo studio, office space and workshop, which will serve as a social workplace for the volunteers of the organization. After the summer, the studio will be used for photoshoots, exhibitions and workshops by and for volunteers. "You can compare it with the Maakplek or Fablab," says Hooymans. With the campaign, the foundation aims to raise 1500 euros for building materials and machines. Anyone who helps will receive an invitation to the Corona-proof opening of the studio. 
Surviving Corona
The blow from Corona hit hard: "The municipality of Groningen has made more than 1.5 million available for the cultural sector and that is fantastic, but that money will not end up with us," Hooymans explains. The foundation does not receive extra support, because the arrangement only concerns organizations that already receive structural subsidies. The organization has worked up to a professional level on its own, without the help of established parties. "It is almost like a grassroots initiative, with every participant gaining something in return."
The result
The team organizes the World Press Photo Exhibition in Groningen every year, which attracts about 8,000 visitors to the city, all thanks to the efforts of about 70 volunteers. "We have formed a diverse, international community here that is open to everyone," Hooymans says, "With a new studio we can offer them a home that does justice to their efforts."
The campaign runs until July 27 and can be followed online via this link. You are also welcome to help out as volunteer!